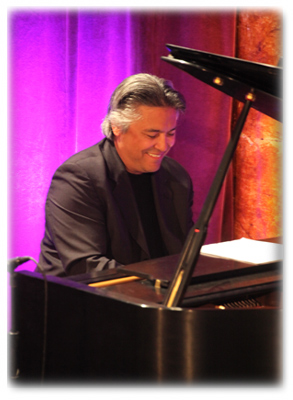 Kelly Park worked steadily as a professional musician in the Boston scene during his enrollment at the Berklee College of Music in Boston, Massachusetts. He performed and recorded with the likes of Michael Gibbs, Phil Wilson, and Randy Sabien. During the summers, in between school years, he taught and worked as a drummer at Cedar Point Amusement Park in Ohio, and taught jazz percussion at Blue Lake Fine Arts Camp in Michigan. He received the "Mercer Ellington Jazz Masters Award" from the Berklee College of Music in 1981 as the drummer most "in demand" at the Berklee Performance Center.
After college, Kelly went abroad for a year - living primarily in Denmark. He met and played with then-expatriate Thad Jones, who became a major musical influence on him. One of his good friends and former band mate in Scandinavia is Ola Bengtsson, professor at the Stockholm Conservatory
of Music.
When Kelly returned to the San Francisco Bay Area from Europe, he was hired as an instructor at the Berklee College of Music in Boston. He taught harmony, theory, arranging and ear training. After two years, he decided that teaching was not for him. He took a sabbatical, from which he never returned, to play on cruise ships in the Caribbean. After a year of cruise ships, he returned to dry land and went back to work for Blue Lake Fine Arts Camp. The Camp sent Kelly overseas again to teach in southern Germany. He also traveled around Europe as The Camp's recruiter.
In 1985, after many years away, Kelly decided to return to the San Francisco Bay Area and began establishing himself as a local musician. He worked in almost every major and minor venue in the San Francisco Bay Area for the next twenty-four years until the present day. His list of San Francisco venues include: the Fillmore, the Great American Music Hall, the Herbst Theater, the Castro Theater, the Luther Burbank Center, the Lesher Theater, and the Moscone Center.
Kelly has performed with Thad Jones, Keely Smith, Zakiya Hooker, Michael Manring, Kim Nalley among many others. He's flown around the country to be Musical Director for singers such as Shawn Ryan and Russ Lorenson, and also is the "House Musical Director" for the THE RRAZZ ROOM, THE PREMIERE NIGHTCLUB OF SAN FRANCISCO. He recently was Musical Director for the Joan Rivers Show in San Francisco. Kelly's performances have taken him all over the United States, as well as in Denmark, Sweden, Germany, Mexico, Tunisia, Canada, and England.